Fundraising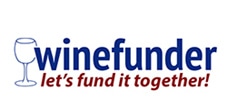 Winefunder is a great platform for you to raise money for our club
For every 12 bottles of wine purchased from our members, winefunder will donate a minimum of $20.
For every 6 bottles, they donate $10 to our club.
And, they do all of this online. Minimum order is 6 bottles of one variety.
Delivery and guarantee
All wine sold during the fundraising campaign will be sent out as it is ordered from our warehouse, and delivered direct to the customer – no distribution by an organiser is required. We offer a 100% money back guarantee on all our wines – if our supporters aren't happy with the wine delivered, they can return it for a full refund. Winefunder will organise this, and any cost of wine returns will be incurred by winefunder.
Delivery and customer queries: info@winefunder.co.nz
Freight charges for 6 or 12 bottles:
Auckland: $4.95
Rest of North Island: $6.95
South Island: $9.95
Help us raise money and enjoy a great glass of wine!
To help us raise money, all you need to do is visit www.winefunder.co.nz, and choose from a great range of New Zealand and International wines. Once you've chosen your wine, then select our name from the drop-down box.
Your wine will be couriered straight to your home or office, and we'll receive a $20 donation for every 12 bottles sold.